Africa is a continent of 54 nation states, more than 1,500 languages, and roughly 3,000 ethnic groups, making it the most diverse and culturally rich place on earth. It is impossible to speak of it as a singularity. This is why many scholars on the continent refer not to African art, but to the arts of Africa when speaking of the visual and material cultures produced across a vast range of eras, spaces, and traditions.
While much writing on the arts of Africa is produced outside of the continent, especially in the U.S. — African Arts, the most important journal in the field, is published by UCLA with MIT Press, for example — there is a growing network of Africa-based scholars who are working to develop an African-centric approach to understanding the arts produced there, both historical and contemporary.
For some, this means challenging and transforming long-entrenched art historical curricula in the academy. Others are delving deep into histories of gender, race, inequality, colonial power, material culture, sociopolitical economy, and more to deepen their own art work. And yet others are developing and supporting new generations of scholars who will join in the efforts to rewrite the history of the arts in Africa — in Africa itself.
Here are some of those researchers, scholars, and artists, all alumni of the African Humanities Program (AHP), a partnership of the American Council of Learned Societies and Carnegie Corporation of New York that, since 2008, has been working to reinvigorate the humanities in Africa through fellowship competitions and related activities. These thinkers and makers are telling new stories about some of the myriad cultural forms, past and present, that are shaping — and reshaping — the lived experience of contemporary Africa. As the Art POWA network puts it, they are "producing our words in Africa." ■
---
7 AFRICAN THINKERS & MAKERS
• Eyitayo Tolulope Ijisakin — Nigerian printmaker/art historian is helping to define new perspectives on national identity
• Nomusa Makhubu — South African artist uses colonial-era photographs to confront repressive structures and the "terror of dispossession"
• Nkiruka Nwafor — Nigerian art historian writes about women artists, whose work she sees as forms of "visual activism"
• Okechukwu Nwafor — Visual historian uses contemporary wedding practices in his native Nigeria to show that art history must "embrace the political and economic and social networks that circulate around things"
• Freeborn Odiboh — Nigerian researcher and educator is challenging the legacy of colonialism through a new  curriculum that "looks at African art from a genuinely African point of view"
• Ruth Simbao — South African art historian and curator is the founder of Art POWA ("Producing Our Words in Africa"), a network for Africa-based scholars in the visual arts
• Evassy Amanda Tumusiime — Ugandan artist/scholar interrogates the role of gender in art and is now looking at about other marginalized communities, including people with disabilities and the elderly
---
Eyitayo Tolulope Ijisakin
Obafemi Awolowo University, Ile-Ife, Nigeria
2015 and 2018 African Humanities Program Fellow
A Nigerian artist and art historian offers the first comprehensive study of printmaking in his country
"I benefited from two fellowships from the AHP (one predoctoral fellowship, the other postdoctoral): an AHP Manuscript Development Workshop in Ghana and an AHP residency at the International Institute for the Advanced Study of Cultures, Institutions, and Economic Enterprises at the University of Ghana in Accra. I am presently using my postdoctoral fellowship to rework my PhD dissertation into a book on the evolution and development of printmaking in Nigeria, with a view to extending the frontiers of knowledge on art history in my country. As a printmaker myself, this knowledge also deepens my own work in the medium, and allows me to place my practice in a larger context.
"Compared to sculpture and painting traditions, printmaking practices in Nigeria have been grossly neglected, with very little available literature to draw on — a few exhibition catalogues, scanty newspaper reviews, and autobiographical sketches here and there. No single text exists to tell the story of how printmaking evolved in the country, to note the landmark events, to identify printmakers and their techniques, and to assess their significant contributions to the development of contemporary art praxis in Nigeria.
"Collecting data for my study was almost overwhelming. Literature was scarce, and I had to track down individual printmakers all across the country — in the end, I identified 220 practitioners! Many of these … well, I met and interviewed some of them one on one — at the Harmattan Workshop (a meeting point for visual artists from across Nigeria and abroad). I met others in their homes or studios, or I spoke with them by phone. My work argues that Nigerian printmaking artists — appropriating cultural heritage, aesthetics, and sociopolitical thoughts from their environment — are defining new perspectives of national identity."
---
Eyitayo Tolulope Ijisakin's ongoing study of the history of Nigerian printmaking was born of and continues to shape his own work as an artist. His collagraph print African Bride (2007) incorporates a complex symbolic and coloristic language to represent Yoruba conceptions of the role women are expected to play in marriage.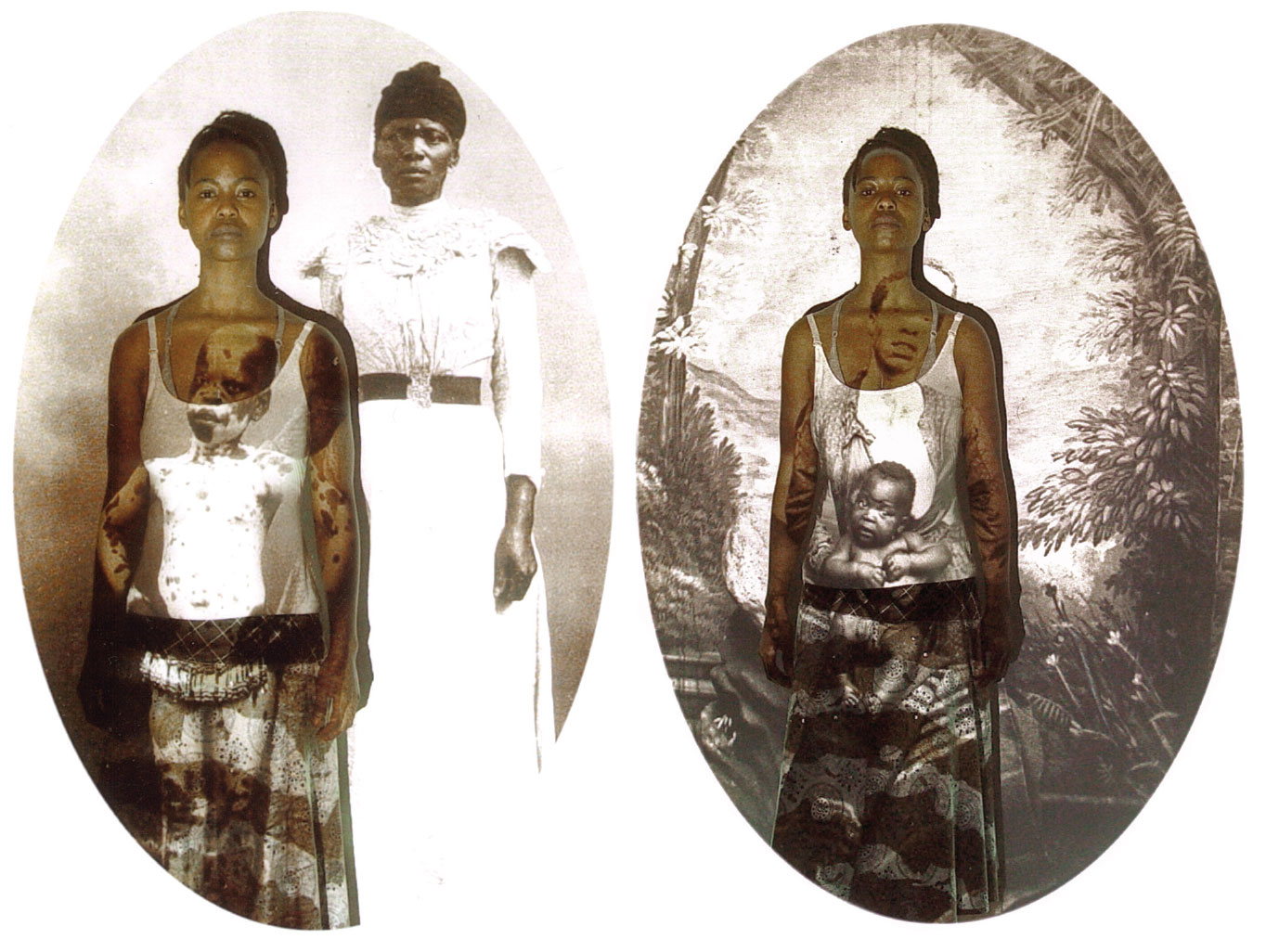 Nomusa Makhubu
University of Cape Town, Cape Town, South Africa
2016 African Humanities Program Fellow
A South African artist and researcher uses colonial photographs to highlight the deep history of South Africa's ethnic divisions
"Often when one presents oneself as an African artist, the question of ethnic background arises — are you a Zulu artist or a Xhosa artist? But we live in such a complex time, and ethnic identities are complicated and fluid — they don't necessarily define you. My creative research focuses on the representation of ethnic identities in colonial photographs and in museums. My work is a response to the ways in which ethnic divisions in South Africa were constructed under colonialism through British Indirect Rule, and later through Apartheid policies established to create Bantustans (homelands) that separated races and ethnic groups.
"The colonial photographs I used in the Self-Portrait Project series were presented as scientific evidence, documenting different 'tribes' of the Zulu people or Xhosa people and so on. They are often labeled with the titles of the ethnic group that's being represented or they have classification numbers. Many of them were made in photographic studios, with people posed in front of painted backdrops. These so-called documentary photographs are actually factitious works, rooted in the colonial imagination — fantastic fictions of the colonial archives that were presented as truth.
"During that research, I was also interested in how museums are organized. I focused specifically on a museum in Grahamstown, where I used to live, that was divided into two sections — it had a Xhosa side and a British settler side. On the British side, objects were associated with specific names. But on the Xhosa side, things were only identified by ethnicity — 'Xhosa beaded skirt,' for example. By locking people into ethnic categories, museums tend to reduce complex sociopolitical identities into these static, ethnic identities. In the museum, we cease to be human. How is it possible to subvert and rewrite the political implications of these photographs, which are part of our history and our collective memory? Of what use are they to contemporary politics? Of what use are the tools of memory if they serve a denigrating history?
"Even though it is my body depicted in these works, rather than being explorations of the self, the project explores the representation of African women. Colonial photography is the documentation of violation and the terror of dispossession. Reenacting these scenes brought me closer to this terror. For me, the past is living memory — this work is a way of coming to terms with the persistence of the same repressive structures."
---
The research pursued by Nomusa Makhubu informs her own artistic practice. In "Umasifanisane I" and "Umasifanisane II" (Comparison I and Comparison II; both 2013), she explores the way colonial photographs "reduce human beings to specimens." By projecting historical images over her own living body, the artist is commenting on how living subjects are informed by and can resist such modes of representation and classification.
Nkiruka Nwafor
Nnamdi Azikiwe University, Awka, Nigeria
2014 African Humanities Program Fellow
A Nigerian art historian changes the narrative by writing about women artists
"When I was deciding on my dissertation, someone said to me 'You are a woman, and most women artists in Nigeria have not been researched at all. Who will do that? Who will change that narrative if not other women?' And so I decided to write on two artists, Nnenna Okore and Lucy Azubuike. What interested me was that they had diverse themes in their art — while Okore was interested in repurposing waste into valuable works of art, Azubuike was using photography to talk about female degradation and other subjects. But at the same time, there was a connection between their practices: I see their works as forms of visual activism.
"Okore uses discarded materials like jute, paper, plastic, and fired clay to create works that talk about consumerism. And there is another dimension, too, because these materials degenerate over time, so the artwork goes through a process that is sort of like the life of a person: it's created, it ages, and eventually it 'dies.' In that sense, the work reflects an African concept of ancestral existence, which connects the past with the present, and the living with the dead.
"In fact, some of Okore's works use the concept of the ancestral emissary or messenger — an entity that links the ancestors, and communicates between the dead and the living in many African cultures. My writing on Okore tries to connect the materials she uses with these traditional notions. Usually these ideas are the purview of men in Nigeria — it's men who create, produce, and practice these roles. But now, she's able to claim this aesthetic in her art, and create her own vision of it. Art gives her the opportunity to delve into a space she wouldn't normally be able to enter in everyday African life."
---
Nkiruka Nwafor is seeking to write new histories of the art of Nigeria in part by highlighting the work of women artists, including that of Nnenna Okore. Okore's installation Emissaries (2011), made from handmade paper, dye, yarn, and burlap, engages questions of environmentalism and the fragile quality of earthly existence by recycling the detritus of everyday life through labor-intensive processes.
Okechukwu Nwafor
Nnamdi Azikiwe University, Awka, Nigeria
2013 African Humanities Program Fellow
A visual historian trains his eye on contemporary wedding practices in Nigeria
"I studied aso ebi textiles — fabrics that are distributed by brides to wedding guests, and used to make outfits for the event — in western and southeastern Nigeria. The idea behind this long-standing practice is that by dressing in matching textiles, your guests are defining themselves as part of your community. In return, the bride gives gifts to those wearing the special clothing. Aso ebi is the name for the fabric, but it's also a practice in which people dress in similar uniforms and then attend social ceremonies, such as weddings, parties, and funerals. It's one of the ways in which Nigerian society constructs and reconstructs things like friendship.
"I wasn't just looking at the textiles themselves — I was thinking about the political and visual economies that surround them, too.
"Over the past 20 years, new ways of using aso ebi have emerged. The altruistic intention of the original transaction, where textiles were given freely to family members, has been complicated by commercialization. Brides now sell the fabric to wedding guests, even those she doesn't know well. It's become a sign of social status — the number of people that attend a wedding in aso ebi tells you how successful the wedding has been. But this has also caused friction among friends, instead of creating feelings of inclusion and belonging. The use of aso ebi plays into the visual hype of contemporary Nigerian society, and a culture of conspicuous consumption. I'm interested in how the intersection of aso ebi, popular photography, and fashion magazines have actually transformed the local visual cultural landscape in Lagos and other parts of Nigeria.
"When it comes to art history, the first question you need to ask is 'what do we really need to study when it comes to material culture or visual history?' Art history should not revolve only around paintings, sculpture, graphic arts, and so on — a limited range of objects. It should embrace the political and economic and social networks that circulate around things, too. You can't study objects in a vacuum. Art history should go much, much deeper than the way it is often studied — when I teach my students, I go beyond that to teach them what they need to know to understand their own world."
---
One strategy for resisting the colonialist assumptions and biases of the art historical discipline is to expand its purview to encompass not just traditional media (such as painting and sculpture), but much broader swaths of visual culture. This goal animates Okechukwu Nwafor's study of the ways a particular textile — the aso ebi cloth — is used to define community in new and disruptive ways when it is gifted by brides to her wedding guests.
Freeborn Odiboh
University of Benin, Benin City, Nigeria
2010 African Humanities Program Fellow
Through the lens of what he calls "critical citizenship," a researcher and educator decolonizes the African art history curriculum
"Art history is taught in Africa largely from Eurocentric points of view, with an emphasis on anthropological methods rather than art historical ones — a legacy of colonialism. My work focuses on creating a new curriculum for the study of African art, one that is situated within the larger discourse of global art historical studies, but that looks at African art from a genuinely African point of view.
"For our students, many of whom arrive at university with no understanding of the history of art, it is necessary to start with what is known and to then move on to the unknown. Our art history curriculum starts with the question of geography, and how it determines the art that arises in a place — both in terms of, say, the kinds of materials available to an artist (the types of wood or stone they might choose), as well as economic, political, linguistic, and other factors.
"When it comes to contemporary art, much of what is recognized in international exhibitions and biennials as 'African art' (or even 'Nigerian art') is work that fits into certain frameworks that make it legible to non-Africans. Because the West still largely orchestrated the tempo and character of art in postcolonial Africa, many artists here continued to adopt western, modernist ideas of the grotesque, the naïve, or the primitive in their work. But if colonialism brought abstraction and modernism to African colonies, it also brought realist and naturalist art — a fact that is often overlooked. Abayomi Barber, for example, one of Nigeria's foremost artists and the founder of an influential art school in the country, was committed to depicting African subject matter, but rejected primitivism in favor of pictorial naturalism and a focus on technical excellence.
"For me, the goal of creating an African approach to the history of art is both to get students to understand their own place — their history — and to get them to understand how they are situated in a global context. I'm interested in the idea of critical citizenship — understanding what it is to be Nigerian, for example, but knowing that you exist in a larger context."
---
Freeborn Odiboh is interested in the way that global perspectives on the art histories of African nations often focus on abstraction and modernist "primitivism," resulting in significant omissions. One of these "disappearances" in the global narrative of contemporary art is the Nigerian painter Abayomi Barber, one of his country's most influential artists, whose naturalist style — demonstrated in shimmering, monumental, naturalistic landscapes — has shaped a generation of Nigerian painters who have studied at his art academy.
Ruth Simbao
Rhodes University, Grahamstown, Eastern Cape, South Africa
2010 African Humanities Program Fellow
Embracing what she calls "strategic southernness," a South African art historian rethinks the study of the arts of Africa
"My AHP fellowship project was about representations of Africa-China relations in the visual arts, which was still a fairly new theme for many artists at the time. That led me to curate an exhibition in 2012 called Making Way, which included art being produced in China and South Africa that connected the ideas of movement and crossing borders. The exhibition challenged simplistic valorization of fast-paced movement and celebratory approaches to globalization that tend to ignore its underbelly and negative aspects. I focused on artists who represented slower and often painful ways of moving — such as walking, crawling, and scraping their bodies along the ground.
"Drawing from this research, I am now thinking about ways we can resituate the study of Africa and its epistemologies within the Global South. Collaborating with various Africa-based scholars, I am asking how we can rewrite art history on the African continent in a way that embraces 'strategic southernness.' What are other ways of looking at the arts of Africa — not 'African art,' which is a largely European and American-produced category? How do our Africa-based art histories reflect what the Kenyan writer Ngũgĩ wa Thiong'o refers to as a 'quest for relevance'?
"I was recently invited to be part of the consortium that publishes African Arts, an influential journal based at the UCLA African Studies Center and published by MIT Press, and in 2017 I came on board as the Rhodes University editor. I edit one issue a year of the journal, and I decided to make it my goal to include as many Africa-based authors as possible. (Up until that point only about 12 percent of the journal's contributors were based on the African continent, and only 1.5 percent were based in Africa outside of South Africa.) To achieve this, I founded the Art POWA network that offers publishing workshops that are similar to the AHP manuscript development workshops. I managed to obtain funding from the Mellon Foundation to run this program, and in the first issue I edited, the vast majority of the authors are indeed Africa-based."
---
In her curatorial project Making Way, Ruth Simbao brought together works that complicated the idea of globalization's effect on African nations, especially the idea that the new phase would usher in an almost frictionless movement of labor and capital across borders. Works by artists like Athi-Patra Ruga reflected on questions of how bodies moved through settler colonialist spaces. Ruga's performance Obscura, Grahamstown (2014), in which official art viewers missed the most spectacular part of the performance, involved the artist walking through the countryside covered with balloons.
Evassy Amanda Tumusiime
Makerere University, Kampala, Uganda
2013 African Humanities Program Fellow
A Ugandan artist-scholar is empowering marginalized communities in her homeland
"Before 2003 I was creating images that were not different from the mass-circulated images which subtly — but purposely — reinforced the silence and subordination of women in Uganda. My images tapped into the narrative of what an ideal woman should be in a patriarchal order. Clearly, I contradicted the position of woman enshrined in the 1995 Uganda Constitution, which was hailed for having given voice to women.
"But laws, however progressive, are not enough to build a woman's capacity to challenge deep-seated stereotypes that are circulated through art. The right education and research are very essential to nurture the kind of woman who can unmask layers of control perpetuated through traditions.
"After 2003 I pursued graduate studies at the University of the Witwatersrand and the University of South Africa in Pretoria. I gained the knowledge I needed to interrogate the issues of gender in art, and to make paintings that would advocate for women's advancement. My themes and symbolism changed.
"This is the context in which in 2016 I mounted Another Place, Another Time: Million-Dollar Masterpieces from Uganda and America, 2003–2016, an exhibition showcasing work I made during my sojourn in the U.S. as a Fulbright Scholar the previous year. This was the first time a painting would be sold at that price in Uganda. In 2016 I also presented the million-dollar painting titled Another Place, Another Time in Uganda. This canvas took me 13 years to complete. My goal was two-pronged: first, to raise funds, and second, to achieve my dream of supporting girls' education in Kabale, the district where I grew up.
"My work has now taken me into the realm of thinking about empowering other marginalized communities — the deaf and other people with disabilities, the elderly, and so on. I am finding ways to use the power of art to empower people."
---
Evassy Amanda Tumusiime's practice combines art and activism. Her oil painting Another Place, Another Time (2002–16) is believed to be the most expensive artwork ever sold in Uganda, and the proceeds are destined toward funding a hostel for female students to support them in successfully completing their education.
---