From The Desk Of
A Behind-the-Scenes Look at Protecting NYC
Most people don't know much about how the important business of protecting big cities like New York City gets done – not least Congressional staffers whose bosses contribute to the policymaking that directly affects the security landscape. Thanks to the Wilson Center's Foreign Policy Fellowship Program, a group of staffers came to New York to meet directly with various security agencies and get a rare behind-the-scenes look at what exactly they do to keep the city safe from all kinds of potential threats.
One of the reasons security teams in New York City are, and have to be, among the best of the best is the sheer number and density of people in the city. New York Penn Station is a perfect example: with 600,000 passengers passing through every day, it's the busiest station in the U.S. by far. An Amtrak police officer describes a few scenarios requiring a security response, including one which to a daily commuter might seem to be a nuisance but not cause for alarm: a stalled train. With 1,000 people pouring in every minute during peak hours, security teams have only 45 minutes max to unblock outgoing traffic before the heightened security risk from overcrowding requires shutting down the entire station. 
From inside the Penn Station Emergency Command Post, an Amtrak Regional Emergency Manager explains what happens when a situation is called in. With the security teams of multiple transportation agencies (MTA, Amtrak, NJ Transit, etc.) all coordinating under intense time pressure, the devil is in the details. Any incident, big or small, is evaluated: who talked to whom, what happened when, and what can be done better? Lessons are also learned from tragedies abroad, like those in Mumbai, Paris and Brussels.
The MTA Police Chief emphasized that prevention through good intelligence is the key to defending potential targets like critical infrastructure, and a number of plots have been successfully thwarted in the last 15 years. Training, including joint drills and exercises with all the regional security agencies, is given top priority. 
What is BioWatch and why should we care? The downward plunge of the line on that slide pretty much says it all. If someone releases a biological weapon (like anthrax) into the air, the chances of an affected person surviving can go from something like 85% to about 10% in a matter of days. Here's the catch: a biological attack is invisible unless you're looking for it. BioWatch is the one on lookout, and it's working to make sure that security and health services at all levels of government can coordinate their responses in case of an incident. 
To a casual passerby this small metal canister doesn't look like much, but someone with a trained eye would recognize the big role that it plays. Samples from these air filters, or Portable Sampling Units, are tested daily to make sure a biological weapon has not been released into the air. It's the only way to catch an attack and treat people early; and fortunately, it's very precise. Over 200,000 samples are tested every year across more than 30 major metropolitan areas in the United States.
When people think about threats coming from nuclear technology, the unthinkable image that generally comes to mind is the signature mushroom cloud of a nuclear bomb. However, the operational checkpoints set up by the Domestic Nuclear Detention Office of Department of Homeland Security in random locations around the city are generally looking for the more subtle threat of a radioactive dispersal device. The sensitive equipment in black SUVs such as this one monitor the surrounding pedestrian and vehicular traffic for traces of radiation, and alerts pop up on the computer every day – most of the time triggered by a passing individual who has received a form of medical radiation treatment.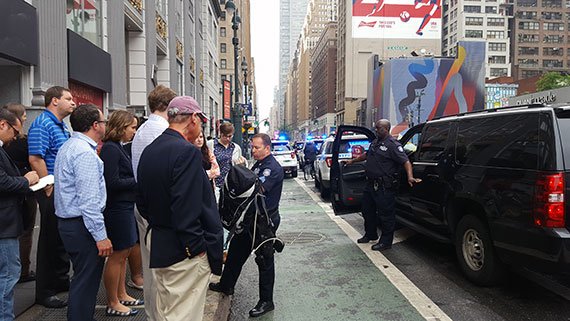 These staffers will never look at a backpack the same way again. Radiation detection equipment, including backpacks like these and pocket-sized devices, are carried by over 5,000 NYPD police officers throughout the city. They are costly to maintain and replace, but the officer says they are necessary tools in a high-stakes and long-term mission that doesn't allow for second chances.
It's a typical scene in crime-fighting TV series: a simple piece of information is plugged into a computer program, delivers an incredible result, and the case is cracked wide open. The NYPD has gotten a step closer to making these often exaggerated fictional capabilities a reality with their new Domain Awareness System surveillance tool. Staffers watch rarely seen demonstrations of the program at a Joint Operations Center, including a feature that can detect, pinpoint, and alert officers to a gunshot in under a minute. The program automatically brings up footage from nearby cameras starting 30 seconds earlier, sometimes catching the shooter in the act, or maybe fleeing the scene. An officer explained that capacity would be enhanced if policies allowed information from other agencies and jurisdictions to be linked to the same system. 
The over 530 miles of coastline in New York city doesn't just make for a great skyline and pleasant waterfront strolls; it also means that maritime security is a serious issue. That's where the U.S. Coast Guard comes in, operating under the Department of Homeland Security in peace time. While the USCG's missions are varied – including search and rescue, intercepting drugs, responding to national disasters such as hurricanes, and more – the primary homeland security mission is Ports, Waterways, and Coastal Security. This includes making sure that terrorists cannot use the Marine Transportation System (such as ferries) to conduct an attack. In this and all its missions, the USCG's motto is Semper Paratus: Always ready.
"Squawk on the Street" is a morning business show that delivers news live from the New York Stock Exchange (NYSE) floor. There's a lot to squawk about. The NYSE is the world's largest in terms of market capitalization – meaning total value of the shares of all its listed companies combined – and with so many billions of dollars' worth of trades happening every day, it is critical infrastructure for the U.S. and global economies. Security has been significantly increased since 9/11 to ensure that trading continues or resumes as quickly as possible and information is protected in the case of a physical or cyber attack. 
After receiving briefings along with real demonstrations of equipment and processes by security agencies over the course of the four day trip, the Congressional staffers say they have learned valuable information to take back to their Representatives, Senators, and Committees about how policy meets practice.   
Noelle Pourrat is a program assistant in International Peace and Security.