From The Desk Of
Michele Cahill, Vice President, National Program, and Program Director, Urban Education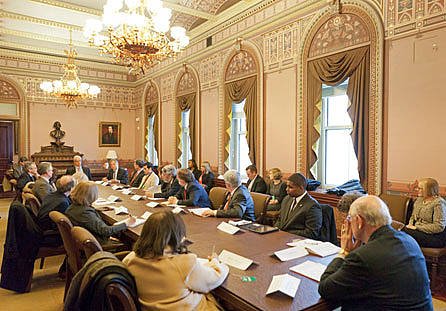 On March 18, you participated in a meeting with President Barack Obama in the Oval Office at the White House. What's it like being in that room?
Being in the Oval Office conveys this incredible aura of gravitas. Standing beside, and speaking with the President inspired me to even greater commitment to working toward the goal of 100,000 new, strong, and capable STEM teachers.
The meeting focused on the need for 100,000 new and effective teachers in science, technology, engineering, and math (STEM) in the next 10 years. Where does the President stand on this issue?
President Obama has placed a very high priority on transforming the nation's STEM education. He believes that we must educate all young people to much higher levels of science, technology, engineering, and math. Doing this is not only necessary for the future of our country, it is critical to their individual futures and the country's ability to compete in the global economy. The President realizes that to solve some of the country's biggest issues like health care, the environment, and energy, we've got to transform STEM education.
How has the Corporation contributed to meeting the President's goals on STEM education?
Our efforts started with the publication of the Opportunity Equation report by the Carnegie Corporation of New York-Institute for Advanced Study's Commission on Mathematics and Science Education in 2009, which emphasized that we need to transform math and science education for all young people. And to do that, the report recommended a focus on three key areas: establishing new common standards in mathematics and science that are fewer, clearer and higher; strengthening the number and capacity of STEM teachers; and "doing school differently" – which means aligning school and system design to meet these goals. We also called for initiating a national mobilization around the need for improving STEM education.
One of the key aspects of our work over the last three years—and one that the President acknowledged—was the creation of the 100Kin10 partnership to advance toward the goal of recruiting, preparing, and retaining 100,000 science, technology, engineering, and math teachers in 10 years.
Tell me about UTeach, a Carnegie Corporation grantee focusing on increasing the number of certified STEM teacher graduates.
UTeach is an innovative model for engaging and preparing college-level students who are strong in math and science and who have entered college with the intention of majoring in one of the STEM disciplines. UTeach engages these students early on in the practice of teaching, especially in high poverty schools, so that they can learn what it's like to be a teacher. And, via a partnership with these students' math and science departments, they're able to get their teaching credentials and good clinical experience. All this while they're still undergraduates and continuing their concentration in their content area major.
It has always been extremely difficult to recruit our strongest math and science students in any kind of large numbers to become teachers. Research shows that 20 to 30 per cent of math and science students have some interest in becoming teachers, but they never take the steps to pursue it because they see too many barriers. UTeach has been quite successful in dramatically increasing the number of well-prepared math and science teachers.
What makes for a great STEM teacher?
The job of a STEM teacher — or any teacher for that matter — is to engage students in academically demanding learning. STEM teachers in particular must engage students in developing content knowledge as well as science and math practices. But most importantly, they must inspire kids with the confidence that it is worth persevering in demanding and rigorous study. STEM teachers must also know how to reveal the wonder and beauty of science and math. Like any teachers, STEM teachers need to develop a capacity to understand the errors students make and to find ways to differentiate their teaching so that they can help students learn difficult content. But the notion of combing content practice and inspiration is the real goal.
Can you highlight a few early successes from the 100kin10 partnership?
100Kin10, which started two years ago with 28 partners, has become a growing and vibrant partnership. There are now 150 partners ranging from universities, nonprofits, corporations, museums, and many others. 100Kin10's key success is that every one of the partners has made an innovative, measurable commitment to either increasing the supply of excellent STEM teachers; hiring, developing, and retaining excellent STEM teachers; and building the 100Kin10 movement.
Partners range widely from Florida International University and Sesame Workshop to the National Commission on Teaching and America's Future, and the National Oceanic and Atmospheric Administration. And, there are 23 private funders.