News
Congratulations Jennifer Egan and Sherman Alexie!
Recipients of the 2018 Andrew Carnegie Medals for Excellence in Fiction and Nonfiction are announced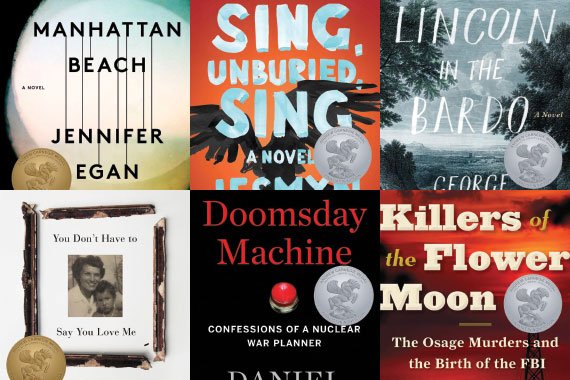 The 2018 winners of the prestigious awards were announced on February 11 at the American Library Association Midwinter Meeting in Denver.
Novelist Jennifer Egan was named winner of the Andrew Carnegie Medal for Excellence in Fiction for Manhattan Beach, her insightful, complex, and propulsive saga that ranges from New York mobsters to the first woman diver at the Brooklyn Naval Station during WWII to the archetypally motley crew of a merchant marine ship in U-boat infested waters.
The Andrew Carnegie Medal for Excellence in Nonfiction was awarded to Sherman Alexie for You Don't Have to Say You Love Me, his courageous, enlightening, anguished, and funny memoir told in prose and poetry that pays tribute to his Spokane Indian mother and reveals the many traumas and tragedies of reservation life, as well as his own struggles.
The Andrew Carnegie Medals for Excellence in Fiction and Nonfiction were established in 2012 to recognize the best fiction and nonfiction books for adult readers published in the U.S. the previous year. The shortlisted authors and eventual winners reflect the expertise of an eight-member selection committee of library professionals from across the country who work closely with adult readers. The annually appointed selection committee includes a chair, one member of the American Booksellers Association, three Booklist editors or contributors, and three former members of the Reference and User Services Association Collection Development and Evaluation Section (RUSA CODES) Notable Books Council. 
The Andrew Carnegie Medals for Excellence in Fiction and Nonfiction are made possible by a grant from Carnegie Corporation of New York on the occasion of the foundation's centennial and pay tribute to Andrew Carnegie's deep belief in the power of books and learning to change the world.
The award seals feature the famed "Pegasus" design that the great American Art Deco sculptor Paul Manship created for Carnegie Corporation of New York in 1934. "It seems to fit thematically as well as being a striking medal," explains Bill Ott, an editor and publisher for the ALA. Even in the age of new media, Manship's craftsmanship remains relevant. "It looks great in digital form," notes Ott of Manship's dynamic composition. Read more about Manship's "Carnegie connection" in Embracing Art Deco: Pegasus Takes Flight at Carnegie.
Go here to read more about the winners, the finalists, and the awards on the ALA website, including an online press kit and promotional tools.