News
Congratulations to the 10 Winners of the I Love My Librarian Award
The I Love My Librarian Award marked its tenth anniversary on December 4, 2018, with the announcement of 10 public servants whose work exemplifies the invaluable role that librarians play within their communities, schools and campuses. The winners were chosen from more than 1,000 nominations submitted by library users nationwide who described how their local librarians fostered education and lifelong learning.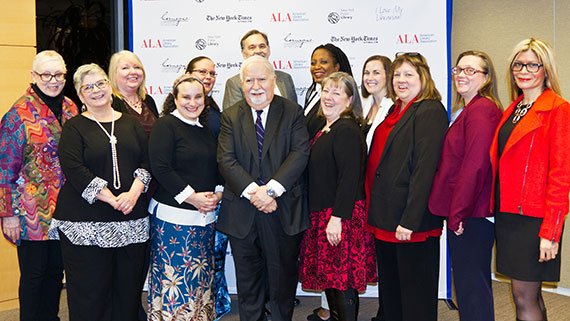 Honorees and special guests (front l-r): Paula Kelly, Pittsburgh, PA; Jennifer Berg Gaither, Baltimore, MD; Vartan Gregorian, president, Carnegie Corporation of New York; Linda Robinson, Mansfield, CT; Nancy Daniel, Morganton, NC; Ginny Blackson, Ellensburg, WA; Loida Garcia-Febo, president, American Library Association; (back l-r) Mary Ghikas, executive director, American Library Association; Terri Gallagher, Monaca, PA; Joy Bridwell, Box Elder, MT; William Kelly, director of research, The New York Public Library; Stephanie Hartwell-Mandella, Town of Bedford, NY; Tamara Cox, Piedmont, SC; Not shown: Lindsey Tomsu, Algonquin, IL.
Among this year's winners: a member of the Chippewa-Cree Tribe from Montana; a rural community college librarian from North Carolina; a Pennsylvania advocate for immigrants and refugees; an academic librarian who provides students with free access to textbooks, food and toiletries; public librarians who assist new Americans while battling bigotry and cultural invisibility; and a school librarian who drives students who can't afford transportation to school.
The ALA has received thousands of nominations over the decade, but only 110 librarians have received this distinguished honor. For 2018, each winning librarian attended a ceremony in New York City, hosted by Carnegie Corporation of New York, which co-sponsors the award along with The New York Public Library and the New York Times. The winners each receive a $5,000 prize, a plaque, and a travel stipend to attend the event.
For more information regarding the I Love My Librarian Award recipients, the importance of their work in the community, and highlights of the awards ceremony, please visit the ALA website, follow the news via social media #ILoveMyLibrarian, and watch a video recording of the tribute on Facebook.